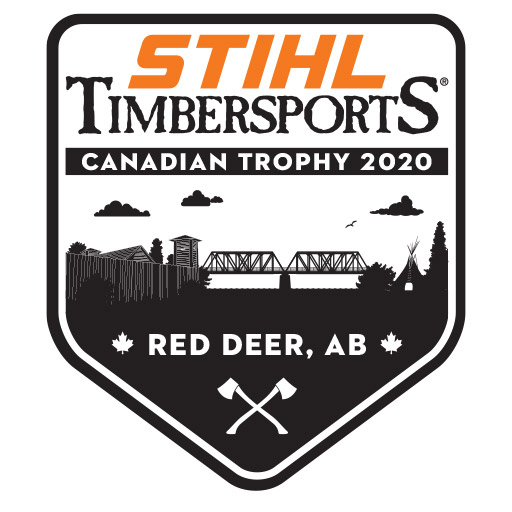 Red Deer to host 2020 STIHL TIMBERSPORTS Canadian Trophy
The ORIGINAL Extreme Sport is coming to Red Deer!
Hotels Red Deer is pleased to announce that STIHL Timbersports has selected Red Deer to host the 2020 Canadian Trophy, the first time such an event has ever been held in Western Canada.
On August 14th and 15th, 2020, Red Deer will welcome 12 of the best wood chopping  athletes in an elimination bracket format where the winner moves onto the next round, and the losing athlete is sent home.  This event has been nicknamed the "Masters Cup" of STIHL TIMBERSPORTS! Click here to learn more about STIHL Timbersports.
Four (4) disciplines will be featured: the stock saw, underhand chop, single buck, and the standing block; all done under 2 minutes.
The event will be hosted at Fort Normandeau. The fort is situated on the south bank of the Red Deer River, at the site of the original Red Deer Crossing. A North West Rebellion fort first established in 1885 in present day Red Deer, Alberta. Abandoned later in 1885 and then occupied by the North West Mounted Police in 1886 until abandoned by them in 1893.
Our community is excited to be the 2020 host, and we are looking forward to continuing our recognized hosting success with STIHL Timbersports Canadian Trophy.
Event Schedule
Friday, August 14, 2020
Qualification Round- Doors open 6:00 pm and Show: 7:00 pm
Saturday, August 15, 2020
Main Draw- Doors open 6:00 pm  and Show: 7:00 pm
Tickets will go on sale April 1, 2020.
Purchase your tickets at www.bkticketcentre.ca
If your organization is interested in getting involved and would like to explore partnership options please contact:
Dawn Mellings-Kynoch – Executive Director, Hotels Red Deer
execdirector@hotelsreddeer.ca
Stay up to date on event details by following us on Facebook, Instagram and Twitter.